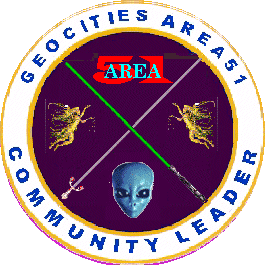 The Official
Area51/Vault/Corridor
Community Leaders Home Page

---
The Area51 Prime Directive

---
A brave new world for Science Fiction and Fantasy fans...
---
Welcome to the Area51 & Area51/Vault Community Leaders Home Page. We hope that through this page (completely free of charge) you will learn more about your leaders, Area51 and Geocities in general, HTML programming, and maybe, just maybe, a little bit about yourself.

people have visited the dark side of the moon
---
Community Leader Application Form
If you would like to become a Community Leader, please fill out this form so that we can find out more about you and why you would like to represent Area51.
---
Featured Page Application Form
If you believe that your page deserves to be featured, please fill out this form and we will check it out and let you know what we think.
---
The Platinum Table of Contents

---
---
This realm hosted by
Get your own Free Home Page