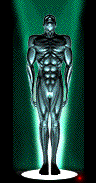 ---
Become Part of the Neighborhood
Please read the following description of the Area51 Neighborhood and make your choice from the selection at the bottom of the page.
---
You'll want to be in Area51 if your home page covers any of these topics:

Sci/fi or fantasy book reviews
Fanzines for Star Trek, The X-Files, The Twilight Zone
UFO sightings
Classic sci/fi movies
Life on Mars (or anywhere else in the galaxy)
Extraterrestrials and aliens
Paranormal or psychic experiences
---
YES! - This is the correct neighborhood for my Home Page. I want to move in here.
OR
NO! - This neighborhood doesn't fit the theme of my Home Page. Show me some other neighborhoods to choose from.